L3Harris Technologies is a global defense company that has operated in Canada for more than 60 years, providing advanced technological solutions across all military domains. With an established presence in Canada, L3Harris' workforce consists of more than 3,000 employees with key facilities across the nation. As a major company supporting current and future naval programs, L3Harris' involvement in Canada's naval industry is strategic and significant.
L3Harris has been a trusted partner of the Royal Canadian Navy (RCN) for more than 40 years — competitively selected to provide solutions for every vessel in the fleet, including the Canadian Surface Combatants (CSC), which is currently under construction on Canada's east and west coasts.
A STAR IS BORN
The company's relationship with the RCN started in the early 1980s, with a contract from the Canadian Department of National Defense to develop the Shipboard Integrated Machinery Control System Advanced Development Model. The objective of this ADM was to design and implement pioneering concepts to reduce crewing onboard the Halifax-class frigates. All major platform systems, including propulsion, electrical and auxiliary system on the vessels were not only automated, but combined into a single integrated system.
The success of the program led to orders for six Integrated Machinery Control Systems (IMCS) for installation on the Canadian Navy's fleet of patrol frigates.
The scope of IMCS expanded over the years through technology advancements, allowing L3Harris to increase control of additional shipboard systems. Today, this platform control system is better known as the Integrated Platform Management System (IPMS). A Canadian-built technology, IPMS remains one of the most successful Halifax-class program innovations to date.
CANADIAN INNOVATION 
The IPMS was developed by our Montréal-based business, which specializes in providing integrated control systems and simulation solutions for naval vessels. Through incremental evolution over the past 40 years, we have become a thought-leader in shipboard platform integration, evolving the capability to include advanced damage control systems, integration of CCTV, on-board training, advanced data analytics, failure prognostics and other industry leading features.
L3Harris' IPMS currently incorporates functionalities and capabilities derived from years of working closely aligned with the RCN and allied partners, such as the U.K. Royal Navy, Royal Netherlands Navy and Royal Australian Navy to name a few. Since its inception, L3Harris has progressively enhanced the IPMS technology, by expanding its performance and delivering cutting-edge capabilities to meet our customer's mission requirements.
Today, IPMS has been exported and delivered to more than 300 vessels in 27 navies around the world.
The company's technology solutions also extend to obsolescence-remediation of systems such as the Victoria-class submarine steering and autopilot functionality, which we modernized for the RCN. Proven at sea, this innovative development "in Canada for Canada" is also enjoying tremendous success in the export market.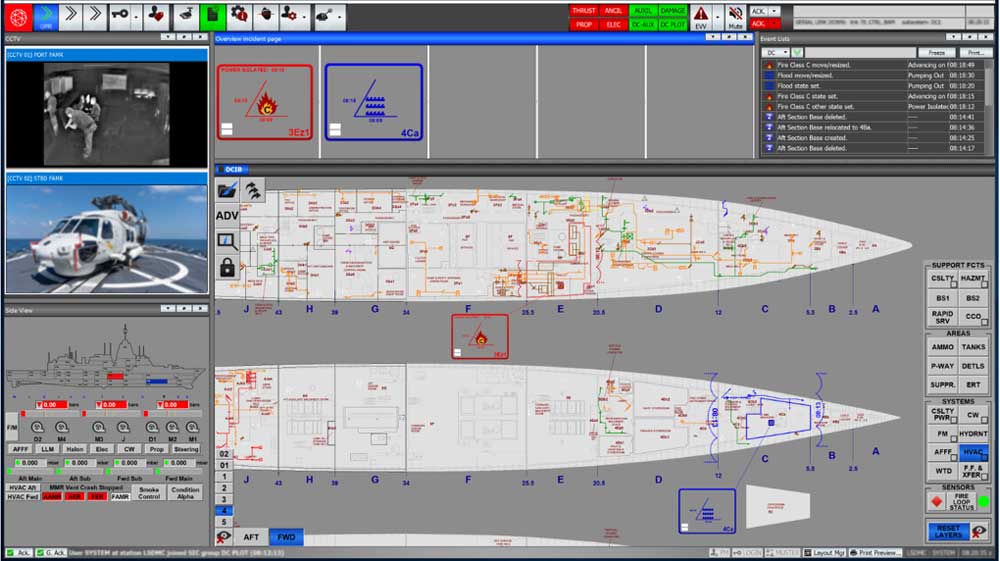 L3HARRIS AND THE CANADIAN NATIONAL SHIPBUILDING STRATEGY 
As a major partner to Canada's defense industry, L3Harris has participated on all legacy vessels as well as new builds under the Canadian national shipbuilding strategy, including the Artic and Offshore Patrol Ships for the RCN and Canadian Coast Guard, Joint Support Ship Offshore Fisheries Science Vessel and the Canadian Surface Combatants.
The CSC is one of the largest defense programs in Canada and the team has made significant contributions to advancing this platform forward for future mission requirements. L3Harris has been involved since the program's inception and has played a major role in developing the IPMS, controls and instrumentation, electro-optical and infrared sensors suite, integrating the internal and external communication systems and delivering the torpedo stowage and handling system.
CUTTING-EDGE TECHNOLOGY
As part of the CSC program, L3Harris is also designing and delivering the IPMS for Canada's future surface combatant. The IPMS is a sophisticated control system that will be used to manage the ship's propulsion, power generation and auxiliary systems. It will interface with the platform's sensors, weapons and other critical systems. The system also incorporates advanced technologies such as artificial intelligence, machine-learning and cyber management.
One of the key benefits of L3Harris' IPMS is its redundancy makes it highly resilient ensuring the ship's systems can continue to operate even in the event of a failure or damage, enhancing the safety and situational awareness of the ship's crew. The system will provide real-time monitoring and control of the ship's systems, allowing the crew to quickly respond to any issues that may arise. IPMS is a powerful system, that will enhance the performance, reliability and safety of the new warships and significantly enhance Canada's defence industry performance.
COMMITTED TO PROVIDING CANADA WITH CANADIAN SOLUTIONS     
As a result of our team's work on the CSC, L3Harris is providing more jobs to Canada. Systems engineers, project managers, technicians, quality assurance specialists, procurement and customer support specialists all make up our dedicated workforce. The Canadian employees working on the program are highly skilled and specialized in their fields, with expertise in areas such as software, electrical and mechanical engineering. They work closely with the broader L3Harris team, other defence contractors and government agencies, to ensure successful delivery of the systems and products in support of CSC's success.
EXPANDING OUR PRESENCE IN CANADA AND BEYOND
L3Harris continues to build a strong legacy of success in Canada through its commitment to innovation, research and development investments and through the dedication of our skilled and talented Canadian workforce. The company takes great pride in being part of the naval team, alongside its partners and stakeholders, and is well-positioned to contribute significantly to the success of the ships which are essential to Canada's security and global standing.
L3Harris is committed to adding value to the Canadian economy through high-tech jobs, innovation and diversity, while designing dependable solutions for the future.